Sep 12
1
There will be no 3pm class today. Monday  we will have a reduced schedule. There will be classes at 9,10,11,12,4 and 5pm. These are All Levels classes L1/L2 athletes are encouraged to come to any of the class times. You will do fine! 
Hey gang,
With the long weekend upon us, many will find ourselves away from the gym.  There are also times throughout the week where life gets in the way and we find that we are unable to make it to the box.  Don't allow time away from the box to encourage to you to fall out of our routine and impede your progress.  Use the principles that you have learned at CFS to get a quick sweat in.  Head down to your local track and do 4-10 400m repeats, find an outdoor pull up bar an do 50 -150 burpee pull ups for time.  Get creative with your fitness!  If you need some ideas to start, take a look at our Travel WODs (these can also be found on the right side of our homepage) and get a workout in that requires minimal equipment and minimal time.
The fall is also a great time to experience the world of fitness outside the walls of the gym.  CFS superstar ALUM Brogan Graham has been incredibly successful in leading the November Project -  A group of like minded people just trying to improve their fitness.  The group meets up a few times a week at different parts of the city to perform workouts and the best thing is there is no cost and prizes are even rewarded for breaking records and showing up a set # of times.  Locations/Workouts include running repeats up Summit Ave, running the stairs at Harvard Stadium and running each week to a different tweeted location in  Boston to do a deck of cards workout.  This once small group has grown from a handful of people to close to 300 people showing up for some of the workouts.  CRAZY!!!!  Brogan is the sh!t and we love the way he has been able to think outside the box and bring fitness to the masses.
To add to that Brogan is a head hauncho in the HUBWAY movement.  Go greener and get in shape while doing so.  These bikes can be found throughout the city and are a great way to stay in shape while afford-ably getting you from A to B.   Best part is, if you are elected Member of the Month going forward, you will receive a free Hubway membership so keep working hard inside and outside of the gym.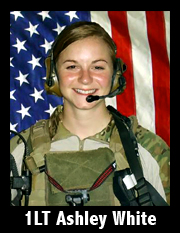 WOD
"White"
Five rounds of:
15′ Rope climb, 3 ascents
10 Toes to bar
21 Overhead Walking lunges (45/25)
Run 400 meters
L2- 4 rounds; 2 rope climbs; (35/15)
L1 – 3 rounds; pull to stand; (25/10)
U.S. Army First Lieutenant Ashley White, 24, of Alliance, Ohio, assigned to the 230th Brigade Support Battalion, 30th Heavy Brigade Combat Team, North Carolina National Guard, based in Goldsboro, North Carolina, died on October 22, 2011 in Kandahar province, Afghanistan, from wounds suffered when insurgents attacked her unit with an improvised explosive device. She is survived by her husband Captain Jason Stumpf, her parents Robert and Deborah, brother Josh, and sister Brittney.